BULK Purchase All Our Scripts

Have you dreamed of owning your own business empire? Well, now you can build your own profitable website network. Buy our complete website script collection and save yourself some money! We have a huge collection of PHP and HTML scripts, and they can be all yours for one special price ($249.95).
So now you'll now have loads of websites, that will have the potential to earn hundreds from advertising. Have a look below or around our store to see some of the scripts in action. It's a limited offer that we will remove really soon, so don't miss out on this special offer.
You get 46 scripts in one discounted package, the individual selling prices is over $670.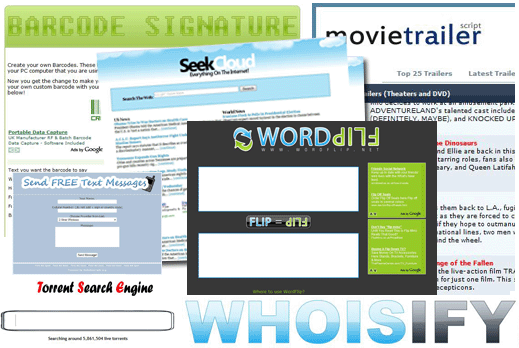 Scripts Included In Package:
PageRank Script

MP3 Search Engine Script

Domain Analysis Script

TinyURL Script

TV Streaming Website Script

Free SMS Text Messaging Script

Torrent Search Engine Script

Text Translation Script

RapidShare Search Engine Script

Wallpaper Script

Music Entertainment Script

Answer Search Engine Script

Discount Coupon Script

File Hosting Script

MP3 & Video Playlist Search Engine

Image Hosting Script

WHOIS Script

Shopping Deals Script

Movie Trailer Script

Adsense Search Engine Script

Word Flip Script

Sports News Script

Joke Website Script

Barcode Generator Script

YouTube Video Script

Let Me Google That Script

Password Creator Script

Yahoo Invisibility Messenger Script

Word Flipper Script

Media Search Engine Script

Dictionary Script

Country On Sale Script

Movie Trailer Script HD

Video Search Engine Script

File Hosting Script (RapidShare Clone)

Watch Live TV Script

Short URL Script


Search Engine Script

Paid To Click Script


PayPal Donation Script

Download Portal Script (CPA Lead Script)

Search Engine Script (Google Clone)

Credit Card Script

CPA Lead Reward Script (Incentive Script)

Domain Search Script


YouTube Video Script

Coupon Script (Voucher Code Script)

Route Planner Script (Google Maps Script)

PDF Search Engine Script (Powered by WordPress)

Photo Rating Script (Hot Or Not Clone Script)

Simple image Hosting Script
BULK Pack Features:
Individual scripts are worth over $670.

Create your own large portfolio within hours.

You got 46 powerful scripts in one discounted package.

Potential to earn hundreds in advertising revenue ($$$)

Save over $420 off the individual selling prices.
Requirements:
Script Options
Copyright removal option (Remove powered by WebsiteScripts.org)