Shopping Deals Script -

Live Demo
Everything on the site is 100% fully automated. Fully customizable to your needs. Change the RSS feed to any other website.
There is no admin panel, all you need to change is a few lines of code to change the RSS feed links if you choose to.
Advert placements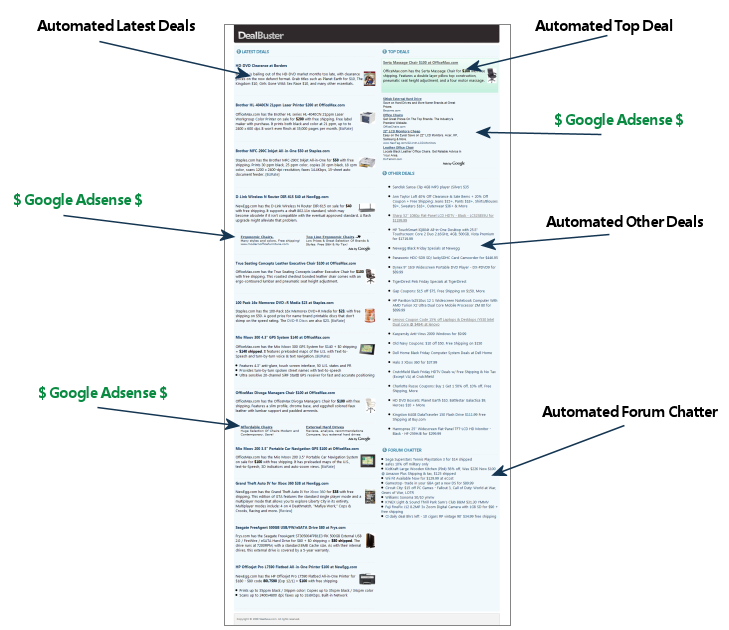 The adsense is perfectly blended and features deals themself. (Please see the image below for details on the ad placements)
User Features:
Grabs the best shopping deals.

Pulls 'bargain' forum posts automatically

Easy to find the best bargains on one simple website.

Image of shopping deals.
Script Features:
Attractive template

Web 2.0 design

100% fully automated.

Script automatically grabs the latest deals from various sites.

No admin panel (simple to edit RSS feeds)

Google Adsense optimised (great advert placement)

Really easy to edit template.

No maintenance needed

No database needed.

100% unencrypted files (you can edit all files)

Simple installation (just upload files)

Download script instantly after payment.
Requirements:
Script Options
Copyright removal option (Remove powered by websitescripts.org)
Installation (Get script professionally installed)

Single domain license (Unlimited domain license is available)